– You know, the situation has changed sharply since yesterday. For example, yesterday, after the report that the Taliban had entered the city, everyone abruptly started running home, everything was closed, and you couldn't see anyone on the street.
But today, it's the opposite. Since 8 a.m., there have been so many people everywhere, and what's awful is that there's no way to distinguish whether these are Taliban or simple residents of Afghanistan. So, big changes have taken place, but you don't see calmness because you can see everywhere the Taliban passing by here.
I live near the airport, and you can hear shooting going on from there. Already as of morning, you could see how everyone is running toward the airport.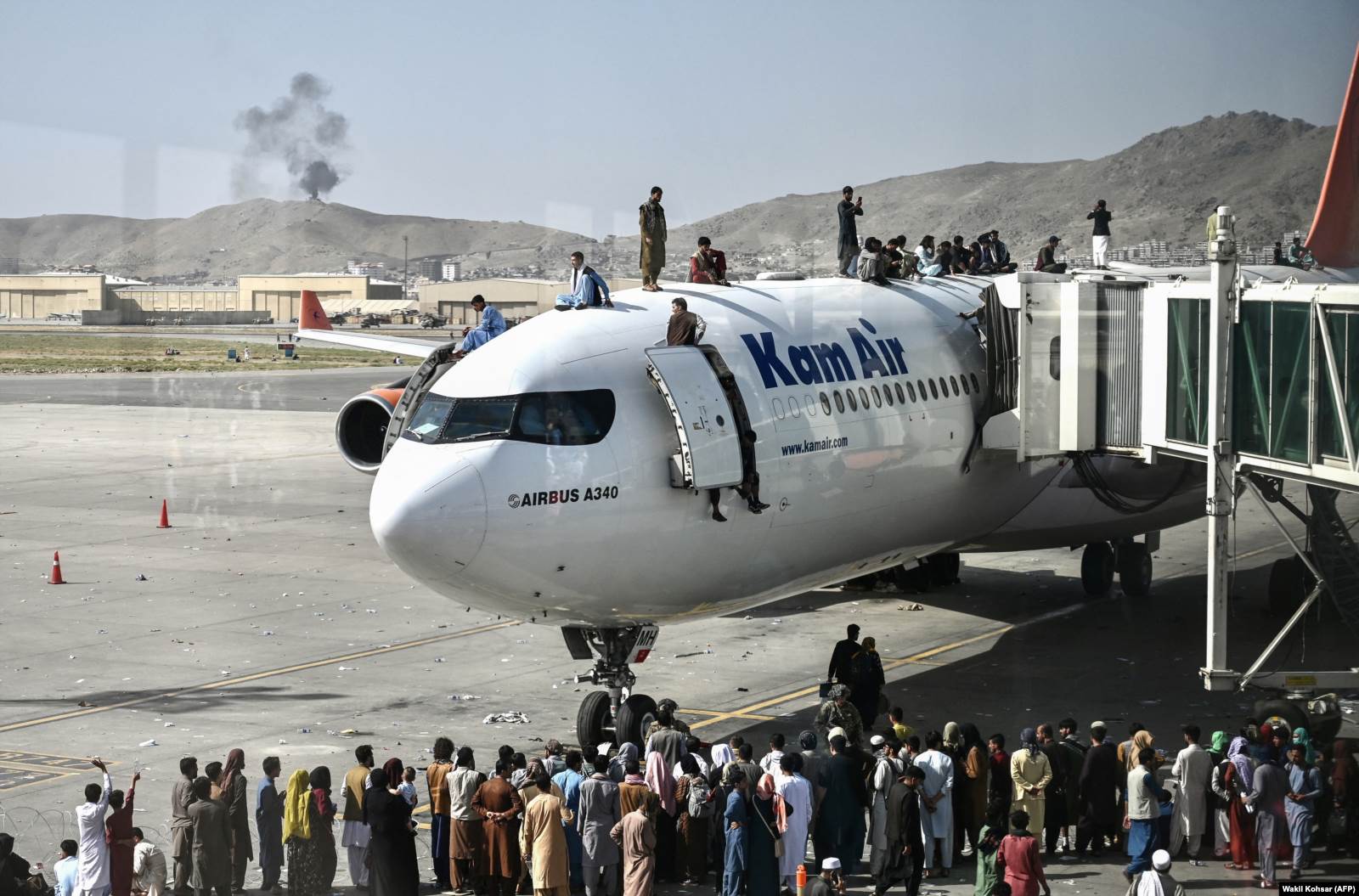 So, in the situation, there's practically no (inaudible) … Today I noticed the fact that women (inaudible) changed, the fact that they're already dressed differently. They're in hijab, and the men also are already dressed differently. There're really a lot of them.
Right now, I see from the window so many people that you can't tell whether they're Taliban or ordinary people. [Yesterday, there was alarm, of course ….] No matter where I went, whom I saw, there was only fear everywhere. You know, there was fear in people's eyes.
Every person was so strongly frightened. One person was afraid about losing their property; another was afraid that, God forbid, something will happen to my children.
But, now, you can't see anything like them welcoming the Taliban, but they've kinda come out into the street just to have a look. They're just looking at what kind of Taliban they are, and that's it. Are they like 20 years ago or has something changed? I think that people came out just to observe the situation, at what's going on with us.
You know, all the migrants whom I saw yesterday, who came from the provinces, they still had the hope that there's some kind of government that there's someone who, at the last moment, will defend them. Yesterday, when I saw (the migrants), one man said, "That's it. We don't have any more hope. Who will protect us, who will protect my children?"
And, in particular, they were very scared for their little girls because, you know, (the Taliban) even marry them. So, for that reason, they moved [from the provinces].
There's no hope, but that doesn't mean that they didn't attempt to leave the country. They were very much trying to, even from the moment that they got the report that foreign troops intend to leave Afghanistan.
From that moment, everything started: One person went for passports, someone else for a visa. And, unfortunately, it didn't work out for everyone.
And those people who were going to the airport yesterday, are these people who didn't receive a passport, didn't receive a visa, and someone may have gotten a visa, but can't fly out. These are all those people.
But this doesn't mean that they didn't want [to leave] and didn't expect the Taliban. Of course, everyone was terrified.
And it's the kind of fear that, when (the Taliban) immediately took the capital, it was a shock.
Yesterday for the last time, I went outside for groceries. It was around 2 p.m. Near my house now, you'll see that the Taliban are here. So, of course, it's scary for me.
Not to mention, when I worked with foreign organizations -- not only to me, but all of my colleagues, journalists, who worked with them -- I've received [information] from all of them since yesterday.
You know, no one slept all night, and no one feels safe. And everyone asks the same question: "How can we get out of the country?" That's what's happening with both journalists and ordinary people.
There're rumors that they're keeping track of people who are journalists, who worked with the government, who worked with foreigners. They're searching for them in their houses. So, judging by this situation, of course, I'm also not safe.
Yesterday, they sent out information that the Taliban won't use weapons against the peaceful population. But what happened 30 minutes ago? Someone used a weapon in the airport. And from both sides.
And it turned out that the foreign troops felt that the Taliban are using weapons against them. And, so, shooting started from both sides. And, judging by the situation, many even died, but I don't have exact information about that now because I was talking with you. I wasn't checking what's going on there.
But 30 minutes ago, I got a report that shooting had already started. But not because they wanted to use weapons against peaceful residents, but because they wanted to defend themselves.